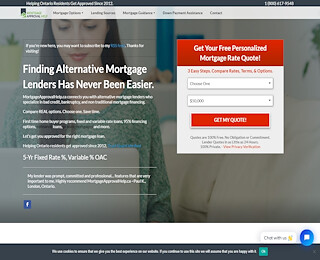 Get the Best Mortgage Refinance in Ontario
The mortgage is the instrument par excellence for acquiring your home. When receiving the commitment, for sure, you will have fulfilled the requirements, and your payment capacity was ideal. However, at some point, your financial conditions may change. In those cases, the wisest thing to do is to get a mortgage refinancing. You must know what it is, what its advantages are, and where you can get the finest mortgage refinance in Ontario.
What is Mortgage Refinance?
In this process, the current mortgage loan is canceled, and replaced by another one. One of the main characteristics of refinancing is that the total payment period of the property is extended. Besides, in the new agreement, various loan payment conditions can be modified. In short, refinancing is paying off your current credit with a new mortgage.
This financial instrument has a variety of benefits. It is possible that the interest rate has changed and is unfavorable to you, or that there is a new circumstance that has negatively impacted your family's economy. These are the main reasons why you want to refinance your property:
Lower the monthly payments
Quickly pay down debt
Pull cash out for other needs
Move to a lower rate
Consolidate high-interest debt
When reconsidering financing, you should consider the total amount of the loan, the current and new interest rates, and the remaining term to be paid. In the case of traditional banking, banks have certain conditions applicable to refinancing.
Generally, they only allow this operation in case of extreme circumstances, high interests, or particular economic problems. Fortunately, there are alternatives in the market, such as the excellent options we can offer you at Mortgage Approval Help.
What are the Advantages of Refinancing the Mortgage?
When you get a refinancing, you will have multiple advantages. First, you will be able to adjust the term of your credit, both to reduce it and to increase it. You can also reduce the interest rate, or replace a variable rate with a fixed one. You can improve the variable rate by changing some terms. If you use the Mortgage Approval Help options, you can even get money to cover other needs.
Count on Ontario's Best Refinance!
If you want to change the terms of your current mortgage and make them work in your favor, you are in the ideal place. Since 2012 Mortgage Approval Help has helped a variety of satisfied customers in the region, and we are at your service. We specialize in providing refinancing options to all Canadians.
We offer alternative mortgage services. This allows us to be specialists in refinancing in case of bankruptcy, bad credit, new credit, self-employment, and any other non-traditional case. Let us connect you with alternative financiers, who will provide you with the exact solution for your needs.
We want to understand your needs, so we will carefully analyze your situation and your requirements. Then, we will present you with real options according to your needs and possibilities. You will be able to choose the most convenient for you, saving time and getting the best deal possible.
Trust the Experts!
It's time to put your mortgage to work for you, and Mortgage Approval Help is here to assist you. Let our financial experts help you get the financial stability you expect and deserve. Contact us, and we'll give you first-class attention.
We look forward to hearing from you.